What is Loan-To-Value and why is it important?
Loan programs, rates and ultimately monthly payments are tied to the Loan-To-Value at the time a loan is completed.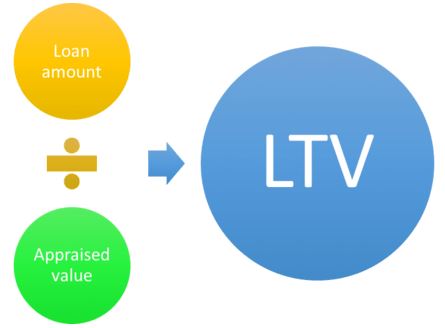 A loan-to-value ratio is a number that describes the size of a loan compared to the value of the property securing the loan. Lenders use loan-to-value calculations on both purchase and refinance transactions.
Here are two examples of loan to value:
Refinancing
Home value: $100,000
Loan balance: $80,000
Equity: $20,000
Loan to value: 80% (Home Value of $100,000/Loan Balance of $80,000 = .8 or 80%)
Purchase
House price: $100,000
Appraised value: $110,000
Down payment: $20,000
Loan amount: $80,000
Loan to value: 80% (House Price of $100,000/Loan Balance of $80,000 = .8 or 80%)
Note on purchase loans: to calculate the LTV you will go off of the lower between the purchase price or appraised value)
Whether you are buying or refinancing your loan's loan-to-value is important because it helps to determine what loan you are eligible for, interest rate and if you are required to have mortgage insurance on the home.
Loan-to-Value by each loan program
VA Loan: Up to 100% LTV allowed
VA loans allow for up to 100% LTV, which means that no down payment is required for a purchase of a VA loan and you can do a cash out loan up to 100% of your home's value. VA mortgages are available to certain active-duty military service people.
FHA Loan: Up to 96.5% LTV allowed
FHA guidelines require a down payment of at least 3.5%. Unlike VA and USDA loans, FHA loans are not limited by military background or location; however, there are loan limits depending on which county the property is located in. There are no special eligibility requirements. FHA loans can be an especially good fit for home buyers with lower credit scores.
Conventional Loan: Up to 95% LTV allowed
Conventional loans offer up to a 95% LTV purchase mortgages, which means you will need to make a down payment of 5% to qualify. Private mortgage insurance (PMI) is required for loans that have an LTV which exceeds 80%. The only way to get around paying the mortgage insurance is if you get your LTV below 80%, or buying out the mortgage insurance premium.
USDA Loan: Up to 100% LTV allowed
USDA loans allow for 100% LTV, which means there is no down payment required. USDA loans are sometimes known as Rural Housing Loans.  USDA loans are only available in rural parts of the country, but they are available to many suburban homeowners, too.
Have questions? Give us a call! One of our mortgage specialists would be happy to answer all of your questions.